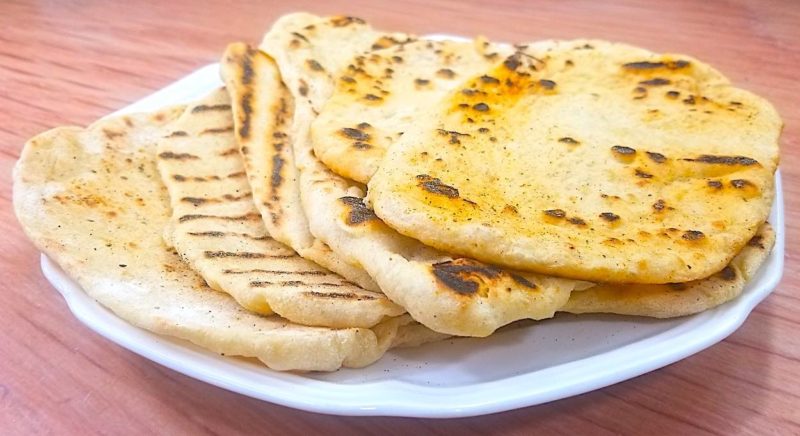 Low Sodium Flatbread Recipe
I'm a huge fan of quickly taking a few flatbreads out of the freezer to make some pizza for dinner. The frozen flatbreads at the grocery store are great and very convenient, but they are almost always very high in sodium. One flatbread could be as high as 1000mg of sodium! I mean, I could personally eat one entire flatbread pizza…the small ones of course.
Add to Collection
Go to Collections
Print Recipe
Ingredients
2

cup

Whole Grain Flour

1

cup

Warm Water

2

tsp

Olive Oil

3

tsp

Lemon Juice

1

tbsp

Garlic Powder

1

tsp

Ground White Pepper

1

tsp

Instant Yeast
Instructions
Start by sifting your flour into the bowl of a standing mixer. Now add the remaining ingredients in with the flour. Using a dough hook mix the dough on medium until it begins to come together. If the dough is sticking to the sides and bottom of the bowl, sprinkle in more flour (about 1 tbsp at a time) until the dough begins to pull from the sides and bottom of the bowl and form a ball of dough.

Remove the dough from the standing mixer and place into an oiled mixing bowl and cover tightly with plastic wrap. Place the dough somewhere warm and let rise until doubled, about an hour.

Divide the dough into 6-8 pieces and let it rest, covered with plastic wrap or a clean kitchen towel for an additional 10 minutes.

Click for a 10 Minute timer

Now roll out each piece of dough into 6-8 inch oval shaped flatbreads. These can be circle if you'd like.

Get a grill pan or a flat skillet HOT, and dry cook the dough for 1-2 minutes per side, or until they are puffed up and have some nice golden brown spots on them. You could also cook these right on a grill or a grill type pan.

Click for a 10 Minute timer




Let the flatbreads cool off before individually wrapping them in plastic wrap. Store in the freezer for up to 6 months!
Full Nutrition
Nutrition Facts
Low Sodium Flatbread Recipe
Amount Per Serving (1 flatbread)
Calories 121
Calories from Fat 18
% Daily Value*
Fat 2g3%
Sodium 4mg0%
Potassium 135mg4%
Carbohydrates 23g8%
Protein 5g10%
Vitamin B1 1mg67%
Vitamin B2 1mg59%
Vitamin B3 2mg10%
Vitamin B5 1mg10%
Vitamin B6 1mg50%
Vitamin C 1mg1%
Vitamin E 1mg7%
Vitamin K 1µg1%
Calcium 12mg1%
Copper 1mg50%
Folate 48µg12%
Iron 1mg6%
Manganese 1mg50%
Magnesium 43mg11%
Phosphorus 121mg12%
Selenium 19µg27%
Zinc 1mg7%
* Percent Daily Values are based on a 2000 calorie diet.