I'm a huge fan of quickly taking a few flatbreads out of the freezer to make some pizza for dinner. The frozen flat breads at the grocery store are great and very convenient, but they are almost always very high in sodium. One flatbread could be as high as 1000mg of sodium! I mean, I could personally eat one entire flatbread pizza...the small ones of course. So I decided to come up with a low sodium flatbread recipe so I could freeze my own flatbreads and make pizzas conveniently without getting slammed with tons of sodium. These low sodium flatbreads are super easy to make, and you can freeze them and use them for months. This recipe makes 8 flatbreads, and when individually wrapped and frozen, will last up to 6 months.
Yields
8 Servings
Prep Time20 mins
Cook Time30 mins
Total Time50 mins
Ingredients
2
cups
Whole grain flour (All purpose works)
3
tsp
Lemon juice, fresh squeezed
2
tsp
White pepper, ground
Procedure
1
Start by sifting your flour into the bowl of a standing mixer. Now add the remaining ingredients in with the flour. Using a dough hook mix the dough on medium until it begins to come together. If the dough is sticking to the sides and bottom of the bowl, sprinkle in more flour (about 1 tbsp at a time) until the dough begins to pull from the sides and bottom of the bowl and form a ball of dough.
2
On medium, knead the dough for about 5 minutes. If you're doing this by hand, knead the dough for 10 minutes.
3
Remove the dough from the standing mixer and place into an oiled mixing bowl and cover tightly with plastic wrap. Place the dough somewhere warm and let rise until doubled, about an hour.
4
Divide the dough into 6-8 pieces and let it rest, covered with plastic wrap or a clean kitchen towel for an additional 10 minutes.
5
Now roll out each piece of dough into 6-8 inch oval shaped flatbreads. These can be circle if you'd like.
6
Get a grill pan or a flat skillet HOT, and dry cook the dough for 1-2 minutes per side, or until they are puffed up and have some nice golden brown spots on them. You could also cook these right on a grill or a grill type pan.
7
Let the flatbreads cool off before individually wrapping them in plastic wrap. Store in freezer for up to 6 months!
Nutrition Facts
Serving Size 1 Flat bread
Servings 8
---
Amount Per Serving

% Daily Value *

Total Fat 4.2g

7

%

Saturated Fat .5g

3

%

Sodium 1.9mg

1

%

Potassium 138.2mg

4

%

Total Carbohydrate 23.7g

8

%

Dietary Fiber 3.7g

15

%

Sugars .3g

Protein 4.6g

10

%
---
Phosphorus

11.9

%
* Percent Daily Values are based on a 2,000 calorie diet. Your daily value may be higher or lower depending on your calorie needs.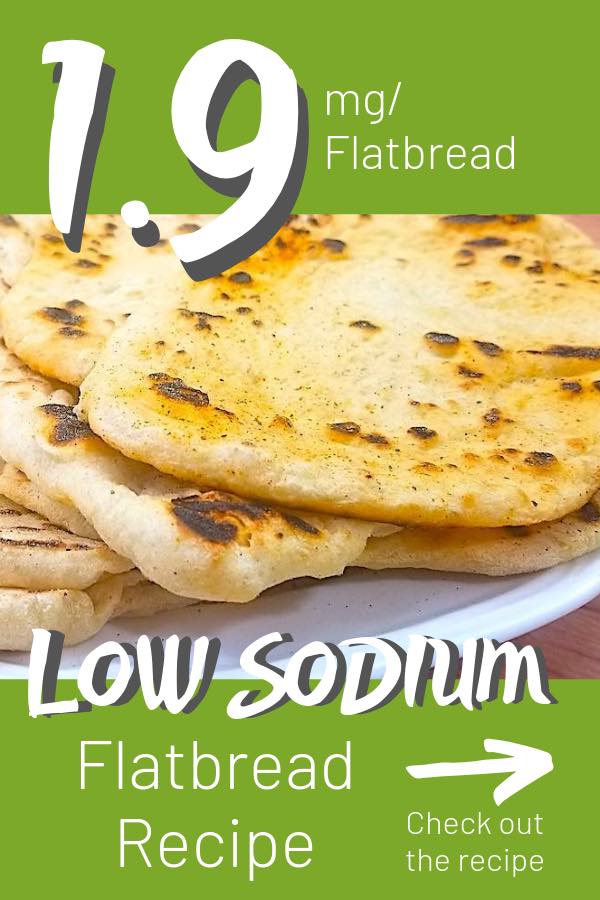 CategoryCKD Recipes, Dairy Free, Dinner, High Blood Pressure, IGA Nephropathy Recipes, Low Phosphorus, Low Potassium, Low Protein, Low Sodium, Low Sugar, Lunch, Vegan, Vegetarian
CuisineAmerican, Greek, Italian
Cooking MethodGrilling, Sautéing