Best Low Sodium Cookbooks for a Low Sodium Diet
Anyone following a low sodium diet knows how important a good low sodium recipe is. With everyone coming out with the latest and greatest cookbooks it's hard to find a cookbook that will satisfy all your needs. I've done the hard work for you and researched and put together this list of the best low sodium cookbooks.
1: No Salt Lowest Sodium Cookbook
by. Donald Gazzaniga
Urged by his doctor to keep his sodium intake "under 1,500-2000mg. a day," Don headed for the kitchen and went to work. Throughout Don's low sodium cookbook you will find the following and some: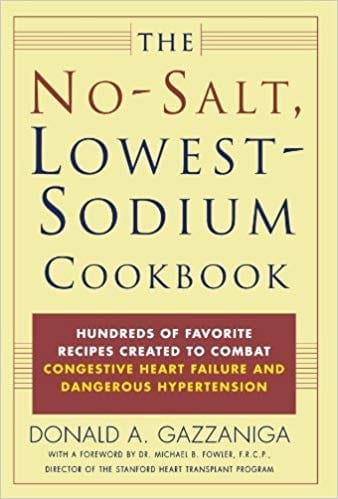 Some things you'll find inside:
Hundreds of good tasting, easy-to-make recipes
An introduction by Dr. Sandra Barbour of the Kaiser Permanente Foundation
Advice on finding low-sodium prepared foods, eating in restaurants, etc.
The accurate sodium content of every ingredient and of the total servings
A twenty-eight-day low-sodium menu planner by Dr. Jeannie Gazzaniga, Ph.D., R.D.
2: 500 15-Minute Low Sodium Recipes
By. Dick Logue
Cutting sodium doesn't mean cutting flavor or variety, or spending hours in the kitchen on complicated recipes. Make staying on course easy—and delicious!—with 500 15-Minute 
Low Sodium Recipes
.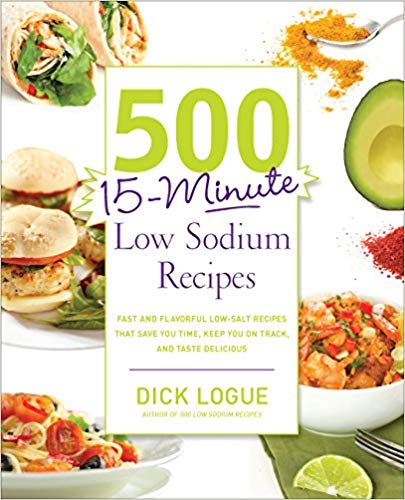 Some recipes you'll find inside:
Quick Chicken a la King
Steak Stroganoff
Baked Tilapia Rockefeller
Quick and Easy Gazpacho
Cranberry Pork Roast
Grilled Chocolate-Filled Bananas
Nutty Apple Wedges
3: 500 No-Salt, Low-Sodium Recipes
By. Dick Logue
500 No-Salt, Low-Sodium Recipes features simple recipes with nutritional breakdowns and useful tips for a low-sodium lifestyle, including what food items to avoid for their hidden sodium content, plus information about convenient and tasty low-sodium substitutes and where to find them.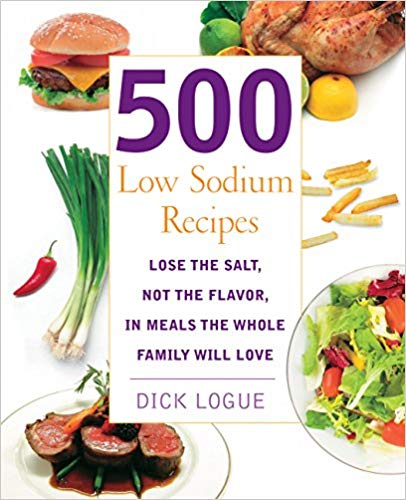 Some recipes you'll find inside:
Spicy Potato Skins
Lemon Glazed Doughnuts
Three-Bean Salad
Stuffing
Apple Pie
Velvet Crumb Cake
Barbecue Sauce
4: American Heart Association Low-Salt Cookbook
By. American Heart Association
With this book in hand, you'll be armed with nutrition numbers for every recipe and the latest American Heart Association dietary information, as well as the how-tos for avoiding hidden sodium, shopping smart, and using healthy cooking techniques.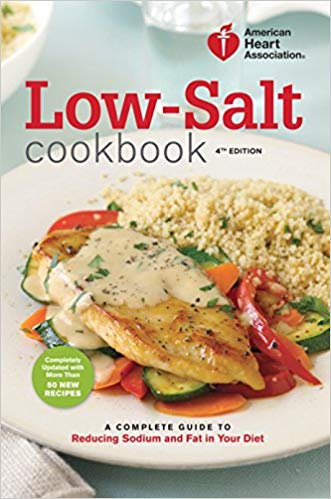 Some recipes you'll find inside:
Baked Veggie Chips served with Hot and Smoky Chipotle-Garlic Dip
Slow-Cooker Moroccan Chicken with Orange Couscous
Three-Cheese Lasagna with Swiss Chard
Peach and Blueberry Cobbler
Rice Pudding with Caramelized Bananas
5: The Easy Low-Sodium Diet Plan
By. Christopher Lower
The Easy Low Sodium Diet Plan & Cookbook is the first and only low sodium cookbook to also include a meal plan, making it easier than ever to start-and stick with-your new low sodium lifestyle.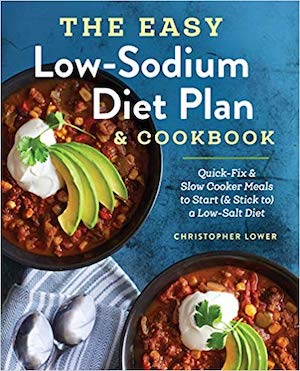 Some recipes you'll find inside:
More than 95 recipes designed to be the easiest to prepare and cook, from the quick-prep stovetop and oven meals to slow cooker dishes that do the cooking for you.
Meals that prep in 30 minutes or less, none of which call for any added salt.
Two 4-week meal plans show you how to combine meals over the course of a month while ensuring you won't go over 1,500 mg of sodium per day.
Knowledgeable guidance from Christopher Lower, the voice behind the popular food blog Hacking Salt, who has "been there, done that" with low sodium diets, and knows what actually works.