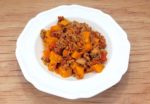 This chili recipe is absolutely mouth watering! My mom has been making it for our family for some time now and I've finally decided to add it to the website. It's healthy, comforting, and low sodium. The good news? For anyone who loves leftovers...it tastes even better the following day! This low sodium turkey chili recipe has got to be one of my all time favorite chili recipes.
Don't have stock? Use water.
Want to use chicken? Go for it!
Want to use beef? Sure, use beef stock too!
Click on "Serving" below to change the servings.
Yields
8 Servings
Prep Time20 mins
Cook Time40 mins
Total Time1 hr
Ingredients
Ingredients
2
cups
Spanish onion, medium diced
1
cup
Red bell pepper, small diced
½
tsp
Cumin, fresh ground
1
Can(28-ounce), no salt added crushed tomatoes
1
Low sodium turkey or chicken stock
2
cups
Sweet potatoes, peeled
¼
tsp
Cayenne pepper (optional)
Black pepper, pinch of fresh ground
Procedure
1
Place sauté pan over high heat and add olive oil. Add the ground turkey in an even layer and cook until deeply browned, about 8 minutes.
2
Add the onions, jalapeño, garlic, bell pepper, and sweet potato. Cook on medium for about 305 minutes or until the vegetables are soft.
3
Add spices and cook for 1-2 minutes, or until fragrant. Add the tomatoes and stock and bring to a boil.
4
Reduce to a simmer, cover and cook for 30-45 minutes or until desired chili consistency is reached. Melt on your favorite low sodium cheese at the end and enjoy!
Nutrition Facts
Serving Size Nutrition Coming Soon
Servings 8
---
Amount Per Serving

% Daily Value *

Total Fat 0g

Saturated Fat 0g

Trans Fat 0g

Sodium 0mg

Potassium 0mg

Total Carbohydrate 0g

Dietary Fiber 0g

Sugars 0g

Protein 0g
---
Phosphorus

0

%
* Percent Daily Values are based on a 2,000 calorie diet. Your daily value may be higher or lower depending on your calorie needs.