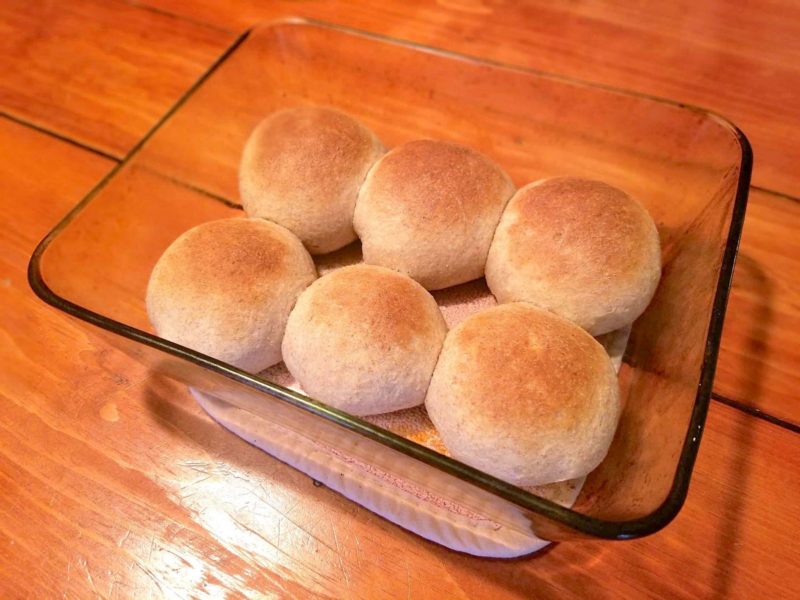 1 Hour Low Sodium Dinner Rolls
Everyone knows that bread from the store is usually loaded with sodium. Making your own bread can be confusing, frustrating, and take a while. This is where these dinner rolls come in…I made these during the COVID-19 Pandemic because we kept running out of bread. Being immunosuppressed I've chosen to avoid the grocery stores and make most things at home after deliveries from loved ones and online markets. These low sodium dinner rolls are super easy to make and can be made in just one hour. The recipe is vegan and whole grain. It can easily be adjusted and made with milk and butter. Simply substitute the oat milk and vegetable oil for milk and butter. Enjoy!
Add to Collection
Go to Collections
Print Recipe
Equipment
Standing Mixer

Mixing bowl

Oven

Unbleached parchment paper

Casserole dish

Infrared Thermometer

Whisk

Pastry Brush
Ingredients
4

cups

Whole Grain Flour

1

cup

Water

1/2

cup

Oat Milk

2

tbsp

Vegetable Oil

1

tbsp

Active Dry Yeast

2

tbsp

Honey

1

tbsp

Vegetable Oil

for brushing over the tops of the rolls

1/2

tsp

Kosher Salt

any salt works
Instructions
In a small sauce-pot whisk together the oil, honey, milk, and water. Turn the heat to medium-low and monitor the temperature using an thermometer. We're looking for 110° but anything from 95° – 115° will work. The temperature is important here because if it's too hot (120°F or more), it will kill the yeast. If it's too cool, the yeast will not activate.

Once you reach an appropriate temperature, remove the pot from the heat and sprinkle the yeast over the top of the liquid evenly. Using a fork, gently mix the yeast into the liquid. Let sit for 5 minutes, or until the yeast gets nice and foamy.

5 minute timer

Add the mixture into the bowl of a standing mixer and add 3.5 cups of flour and the salt. Using the dough hook, mix on medium-low until the dry ingredients begin to come together.

Slowly add in the remaining 1/2 cup of flour 1 tbsp at a time until the dough starts to come together and pulls off the side of the mixing bowl. The dough should be slightly sticky to the touch.

Form the dough into a ball and place into a greased mixing bowl. Cover with a damp towel and let the dough rise at room temperature for 15 minutes.

15 minute timer

Gently punch the dough down and divide it into 15 equal-sized pieces. Form each piece into a ball and place them evenly 5 balls x 3 balls onto a greased 9×13 casserole dish. Cover the pan with a damp towel and let rise for an additional 15 minutes.

15 minute timer

Bake for 15 minutes, or until the golden brown and cooked all the way through.

15 minute timer

Optional:  Brush with butter, vegan butter, or vegetable oil.
Full Nutrition
Nutrition Facts
1 Hour Low Sodium Dinner Rolls
Amount Per Serving (1 roll)
Calories 146
Calories from Fat 36
% Daily Value*
Fat 4g6%
Sodium 83mg4%
Potassium 123mg4%
Carbohydrates 26g9%
Protein 4g8%
Vitamin A 16IU0%
Vitamin B1 1mg67%
Vitamin B2 1mg59%
Vitamin B3 2mg10%
Vitamin B5 1mg10%
Vitamin B6 1mg50%
Vitamin D 3µg20%
Vitamin E 1mg7%
Vitamin K 1µg1%
Calcium 22mg2%
Copper 1mg50%
Folate 20µg5%
Iron 1mg6%
Manganese 1mg50%
Magnesium 44mg11%
Phosphorus 116mg12%
Selenium 20µg29%
Zinc 1mg7%
* Percent Daily Values are based on a 2000 calorie diet.