By throwing some things together one night I came up with this low sodium turkey meatloaf recipe. The end result is a delicious, moist turkey meatloaf with a nice crunchy crust. Meatloaf is always a good change of pace meal for my family and I. We use to never make meatloaf, but now that we've stumbled upon this recipe it seems like we make it once or twice a month now. If you're looking for a salt free turkey meatloaf, give this recipe a try and comment below to let me know what you think about it.
Yields
5 Servings
Prep Time15 mins
Cook Time1 hr
Total Time1 hr 15 mins
Ingredients
1
lb
Organic ground turkey 85/15
2
tbsp
No salt added ketchup
Tools
Procedure
1
Pre-heat the oven to 375F.
2
In a medium sized sauté pan cook down the onions until just about translucent, add the garlic and finish until both onions and garlic are translucent. About 5-7 minutes.
3
In a large mixing bowl add everything except the 2 tbsp of ketchup and mix until fully incorporated.
4
In a greased 9x5 loaf pan pour in the meat mixture and smoothen out with a rubber spatula until level. You can tap the loaf pan on the counter top a few times to help level our the loaf and remove air pockets.
Notes & Tips
We used this brand here which has 100mg sodium per 1/3 cup. But drying out low sodium bread and grinding your own works too.
You can use balsamic vinegar here, or make your own balsamic glaze by slowly reducing a few cups of balsamic vinegar in a small stock pot.
Nutrition Facts
Serving Size 1/5
Servings 5
---
Amount Per Serving

% Daily Value *

Total Fat 12.85g

20

%

Saturated Fat .3g

2

%

Cholesterol 90.05mg

31

%

Sodium 73.7mg

4

%

Potassium 235.5mg

7

%

Total Carbohydrate 9g

3

%

Sugars .8g

Protein 14.8g

30

%
---
Phosphorus

16

%
* Percent Daily Values are based on a 2,000 calorie diet. Your daily value may be higher or lower depending on your calorie needs.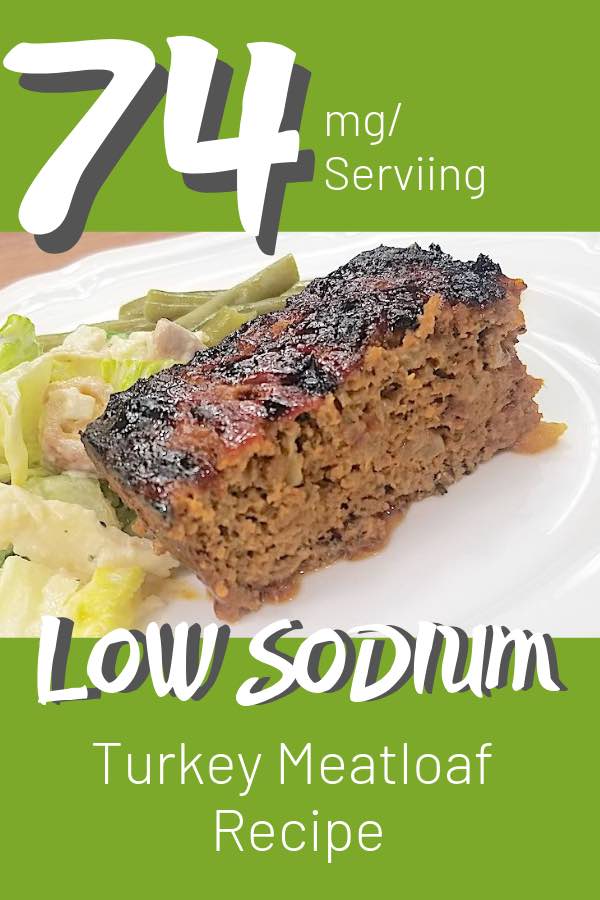 CategoryCKD Recipes, Dairy Free, Diabetes Recipes, Dinner, High Blood Pressure, IGA Nephropathy Recipes, Low Calories, Low Phosphorus, Low Potassium, Low Sodium, Low Sugar
CuisineAmerican, Fusion
Cooking MethodBaking, Simmering
[ls_content_block slug="recipe-below-taxonomies"]