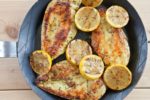 My hometown has this Greek restaurant that does an unbelievable job using lemon and oregano on a lot of their dishes. The chicken there is to die for. I wanted a low sodium lemon oregano chicken recipe that could compete, but could also be made at home for myself and my family.
Prep Time1 hr 5 mins
Cook Time15 mins
Total Time1 hr 20 mins
4
Chicken breasts, boneless and skinless
Tools
1
Carefully fillet/butterfly the chicken breasts in half. Mince the garlic and set aside. Juice your lemon and set the juice aside. Cut the juiced lemon into wheels.
2
In a large freezer bag or large mixing bowl, combine everything except the butter. Place in the refrigerator and let this sit for about an hour.
3
Add 1 tbsp of butter to a large pan and turn to medium-high heat. Using tongs, carefully add 1 piece chicken to the pan to test if it's hot enough [1]. Add 3 more pieces of chicken and a couple lemon wheels and cook 1-2 minutes per side or until nice and brown.
4
Repeat the previous step with the remaining 4 pieces of chicken, and the 1 remaining tbsp of butter.
5
Remove the chicken from the skillet and let sit for 5 minutes before slicing and serving.