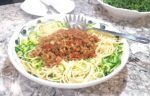 In an effort to stick with my low sodium diet while also reducing my carb intake, along came the half zucchini noodle half spaghetti turkey bolognese. Also known as "zoodles", zucchini noodles are extremely versatile and are a great alternative for people trying to follow a low-carb diet. This low sodium turkey bolognese recipe is one of my favorite recipes, and a challenging one at that. Although this recipe is a bit tough to make, it's totally worth the effort for you and whomever you are cooking it for! If you are able to pull off this recipe or have any questions please comment below what you think!
Note: This recipe is relatively high in potassium & phosphorus. If you're following a low potassium or low phosphorus diet, I recommend only having one serving of this dish.
Yields
8 Servings
Prep Time1 hr
Cook Time1 hr 30 mins
Total Time2 hrs 30 mins
Ingredients
Procedure
1
Add the olive oil to a large deep frying pan and turn to med-high heat. Once hot, add onions, garlic and turkey and cook until turkey is lightly browned and just about fully cooked through.
2
Now we're going to deglaze* the pan. Turn the heat as high as it will go and cook for about 30 seconds or until everything begins to stick to the pan and looks like it's just about to begin burning. Once you reach this point, grab a wooden spoon in one hand and the chicken stock in the other and poor in the stock while simultaneously scraping the bottom of the frying pan to lift up all of the bits and pieces that got stock.
*(If this seems challenging, don't worry about deglazing. Just at the chicken stock into the pan and leave it at that!)
3
Add all of your dried herbs and spices (leave out the fresh basil), crushed tomatoes and cherry tomatoes and simmer on low for 1.5 - 2 hours.
4
While the turkey is simmering, let's spiralize our zucchini. I use a kitchen aid spiral attachment, but there's tons of other cool spiraling tools on Amazon. Follow the instructions from your spiraling tool to cut your 4 zucchinis into spaghetti. Set the zucchini spaghetti aside.
5
While the turkey is continues to simmer, bring a large pot water to a boil, reduce to a light boil and add in the spaghetti. When the spaghetti is a little more than half way done, add your zucchini noodles and continue to boil until the actual spaghetti is al dente. Strain the pot, toss in some olive oil so your pasta doesn't stick and set aside until turkey is done simmering.
6
Once the turkey mixture has simmered down and is only left with a little liquid, toss in the basil and the noodles and cook for an additional 2-3 minutes. Serve hot topped with a little parmesan cheese.
Notes & Tips
We roast our own cherry tomatoes which you can see the recipe for here.
This recipe is based on the no salt added chicken stock recipe found here on our website.
If you don't have ground bay leaves, you can follow this guide here to quickly make your own.
Nutrition Facts
Serving Size 1/8
Servings 8
---
Amount Per Serving

% Daily Value *

Total Fat 7.6g

12

%

Saturated Fat 1.9g

10

%

Cholesterol 44.2mg

15

%

Sodium 45mg

2

%

Potassium 464.8mg

14

%

Total Carbohydrate 13.3g

5

%

Dietary Fiber 2.4g

10

%

Sugars 7.1g

Protein 12.4g

25

%
---
Phosphorus

17

%
* Percent Daily Values are based on a 2,000 calorie diet. Your daily value may be higher or lower depending on your calorie needs.