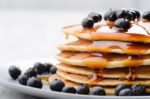 Breakfast can be challenging for us low sodium warriors. If you're like me and love bagels and other bread items, then you also know that these items are normally very high in sodium. Most pancake mixes can also be high in sodium making this fan favorite breakfast item another hard one for us.
Not to fret!
These low sodium pancakes are fluffy, delicious and take only about 15 minutes to prepare! The problem with store bought pancake mix is that the preservatives, baking powder, and baking soda contain loads of sodium. By swapping out the leavening agents with sodium free versions, we are able to create a low sodium version of this yummy breakfast item.
Yields
36 Servings
Prep Time10 mins
Cook Time5 mins
Total Time15 mins
Make Mix
Make Pancakes
2
Sift 1 cup of the mix you made in step 1 into a large measuring bowl. Add the following ingredients in with the sifted pancake mix.
1 tbsp Unsalted Butter*
1 tsp Vanilla Extract No vanilla? It's ok to omit it!
1 Egg
1 cup Milk
1 cup Blueberries
*If your butter isn't room temperature I recommend heating it a bit in a small sauce pan over low heat.
3
Bring a non-stick pan to medium-high heat.
4
Pour the mixture out of the measuring bowl onto your hot pan, making sure to keep them the same size.
5
Cook for 1-2 minutes or until golden brown. Flip and cook opposite site. Enjoy!