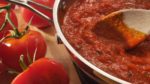 There's nothing like a good, hot marinara sauce over pasta. It was a staple in my household growing up. Almost every Sunday night you could expect a dish of pasta with my moms homemade tomato sauce. She made the same sauce every weekend for years and years. After going to school for culinary arts and finding out that tomato sauce was considered a "mother sauce" in cooking, I fell even more in love with marinara sauce, and sauces in general. This low sodium marinara sauce recipe is easy to make, and tastes great. I normally double, or even triple the recipe and freeze the rest for a day I don't feel like cooking dinner. Simply pull the sauce out of the freezer in the morning, and heat it up in a sauce pot at night. I do like to add some salt to this recipe because it helps with the acidity of the tomatoes a bit, but you're more than welcome to make this a salt-free tomato sauce by removing the salt all together. Let me know it tastes in the comments below!
Yields
6 Servings
Prep Time10 mins
Cook Time3 hrs
Total Time3 hrs 10 mins
Ingredients
¼
cup
Extra-virgin olive oil
Pinch of crushed red pepper flakes
Without Salt Added = 12mg Sodium/Serving
Directions
1
In a shallow sauce pot over medium heat, heat the oil. When the oil becomes hot, add the onions and red pepper flakes. Cook onions 3-4 minutes (or until they begin to become translucent), occasionally stirring.
2
Add minced garlic and cook for an additional minute.
3
Add the crushed tomatoes to the pot. Fill up the can with water and slosh it around to get the remaining tomato juices. Add water to pot.
4
Add oregano and salt. Simmer on medium-low for 30-45 minutes (or until desired thickness), occasionally stirring. I like to cover my sauce pot
5
Towards the end of the simmering process, add your fresh basil sprig. Submerge the sprig of basil so it's fully inside the sauce releasing its wonderful flavors. Let the basil hang out for about 10 minutes.
Nutrition Facts
Serving Size 1/2
Servings 6
---
Amount Per Serving

% Daily Value *

Total Fat 7g

11

%

Saturated Fat .9g

5

%

Trans Fat 0g

Cholesterol 0mg

Sodium 105mg

5

%

Potassium 313mg

9

%

Total Carbohydrate 6.6g

3

%

Dietary Fiber 1.6g

7

%

Sugars 3.75g

Protein 1.41g

3

%
---
Vitamin A

19

%

Vitamin C

11

%

Calcium

21

%

Iron

6

%

Vitamin D

0

%

Vitamin E

16

%

Vitamin K

8

%

Vitamin B6

10

%

Vitamin B12

0

%

Phosphorus

5

%

Magnesium

16

%

Zinc

3

%

Copper

14

%

Manganese

9

%
* Percent Daily Values are based on a 2,000 calorie diet. Your daily value may be higher or lower depending on your calorie needs.