Introduction – Low Sodium Snacks
Snacking doesn't have to be hard. As long as you eat in moderation and make good healthy choices, snacking can happen often, and taste great while doing it. One of the most important things I've found when it comes to snacking is to simply avoid processed foods. Eating packaged snacks, chips and other things can quickly ruin your daily allowance of sodium or even potassium for that matter. Sticking to simple, non (or minimally) processed snacks or organic fruits and vegetables is always the best option for frankly anyone, and most definitely for people snacking with a low sodium diet.
Below you will find a list of my favorite low sodium snacks.
1: Popcorn From Scratch
When most people think of popcorn they think of the movie theater lathering liquid butter all over it. That's just totally unnecessary. A better option is to make your own popcorn from scratch. I like to buy my own kernels and microwave them in a brown paper bag with some olive oil, black pepper and garlic powder. This makes a great alternative, and makes a fantastic kidney friendly snack.
Sodium: 0mg
2: Unsalted Pretzels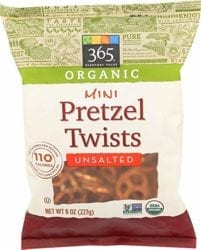 Although regular salted pretzels are very high in sodium, unsalted pretzels are actually a fabulous snack for people dealing with low sodium diets. Like bread, pretzels are made from a flour and yeast dough, then baked in the oven. I like to get the the 365 Organic Mini Pretzels which you can find at some grocery stores, or on Amazon. To the right (or below on a mobile device) you will find the nutritional facts for Snyder's of Hanover unsalted pretzels.
Sodium: 40mg per 16 Pretzels
3: Unsalted Peanuts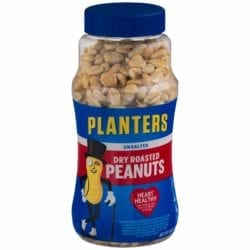 What I like about peanuts is that a little goes a long way (for me, at least). If potassium isn't an issue for you, peanuts can make a phenomenal low sodium snack. Every grocery store will carry low sodium peanuts. Make sure to check out the nutrition label on the back of the peanuts. I like to get Platers Unsalted Peanuts which you should be able to find in almost every market.
Sodium: 5mg per 39 Peanuts
4: Unsalted Tortilla Chips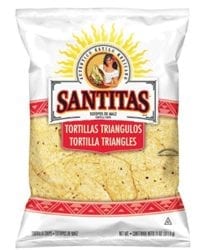 Since corn is considered a kidney friendly vegetable, corn tortillas are also kidney friendly. Most corn tortillas are made from corn, vegetable oil, water and some salt. Look for unsalted, or low sodium tortilla chips at the grocery store, and when out to dinner, ask for no added salt.
Sodium: 0mg
Most corn tortilla chips are made from corn, vegetable oil, water and some salt. Look for unsalted, or low sodium tortilla chips at the grocery store, and when out to dinner, ask for no added salt. Tortilla chips are my favorite low-sodium snack.
5: Low Sodium Crackers
Animal crackers, graham crackers or any other low sodium crackers make great snacks for people dealing with a low sodium diet. Crackers are normally made from flour, and some seasonings, which can be done without sodium.
Sodium: 105mg
Have you tried?
Spread your favorite nut butter over the top of a cracker and add a thin slice of apple.
6: Low Sodium Nut-Thins
If you haven't tried these Nut-Thins by Blue Diamond, you're totally missing out. I like to get the Hint of Sea Salt Nut-Thins, which still only have 80mg of sodium per 19 crackers. Unsalted snacks are great, but every once in a while I like to get the lightly salted versions of certain snacks to get that little extra taste. At 80mg per serving, you can't really go wrong with this low sodium snack.
Sodium: 80mg per 19 Thins
7: Salt Free Rice Cakes
Rice will quickly become your friend if you are dealing with a low sodium diet. Salt Free rice cakes are made from rice, and shaped, condensed, and combined into a cake or patty shape. Rice cakes make great low-sodium snacks and go great with a little bit of peanut butter spread over them.
Sodium: 0mg
Have you tried?
Mix 1 part honey to 1 part peanut butter and spread over rice cake.

8: English Muffins
Paired with unsalted butter or your favorite nut butter, this Food For Life, whole grain muffins make a great low-sodium snack. Make sure to search for low sodium English muffins because most bread products tend to be really high in sodium to help with shelf life.
Sodium: 140mg per English Muffin
Remember to always eat in moderation and make smart choices that work well with your specific diet. If done correctly, you can still enjoy guilt-free snacking and dining for that matter. Always remember to ask your doctor and/or dietitian what snacks work best for you specifically. Everyone has a different situation, and these snacks may not work for everyone. Please feel free to contact us with any additional information that you feel could be helpful to this low sodium snacking article.