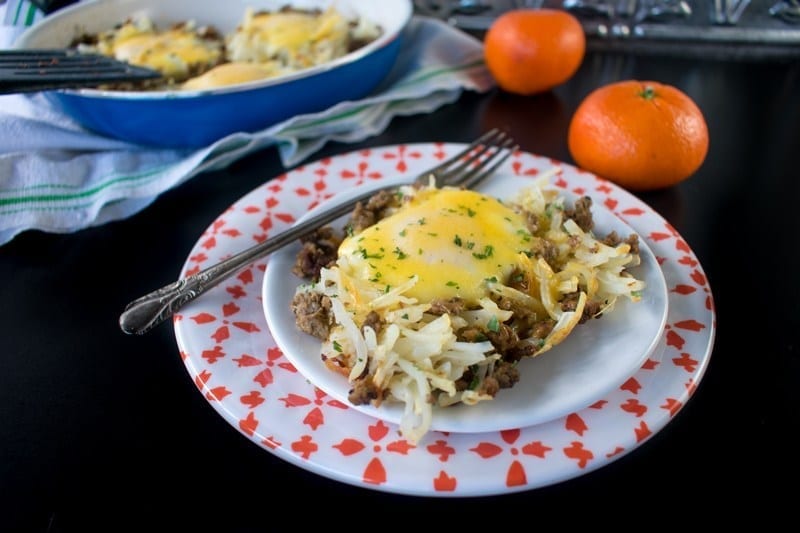 Low Sodium Sausage, Egg, & Cheese Hash Brown Skillet
This simple yet filling breakfast has quickly become a favorite in our home. The secret to making this recipe is to mix up your own sausage from unseasoned ground pork. You can even make it ahead of time and keep it on hand to make this an even quicker breakfast. This low sodium sausage egg and cheese hash recipe can be fixed up in just about 30 minutes and is sure to be a family favorite.
Print Recipe
Ingredients
8

oz

Pork, unseasoned & ground

12

oz

Hash browns, frozen

4

Eggs, large

1/2

tsp

Thyme, ground

1/4

tsp

Rubbed sage

1/2

tsp

Ground black pepper, fresh

1/2

tsp

Red pepper flakes

1

oz

Sharp cheddar cheese, finely grated
Instructions
To make the sausage, combine the ground pork with thyme, sage, black pepper, and red pepper flakes in a medium bowl. Mix well with a spoon or your hands. Refrigerate until ready to use. (I have also frozen it at this stage, makes this an even easier breakfast.)

Heat a 10" to 12" nonstick skillet on medium heat. Cook the sausage until browned and cooked through, about 10 minutes. Drain the meat on a paper towel-lined plate. Set aside while you cook the hash browns.

Return the skillet to the warm burner. There should still be a tiny bit of fat from the sausage in the pan; leave just enough to coat the bottom. If you don't have enough fat in the pan to coat the bottom, spray the pan with cooking spray. Place the potatoes in the pan and cook (without stirring) until the bottoms are nicely browned (about 8 minutes). Stir the potatoes and continue to cook for several minutes, or until nearly done.

Add the sausage to the skillet with the potatoes and stir. Using the back of a spoon, press four small wells in the hash browns (you will put your eggs in these wells).

Add one egg to each well. Cover and cook for about 5 minutes, or until nearly cooked (the eggs should still be jiggly). Sprinkle the cheese evenly across the eggs. Cover and cook for about 2-4 more minutes (two minutes should result in soft cooked eggs and 4 should result in firm eggs).