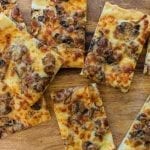 This low sodium mushroom and shallot pizza brings together mushrooms, shallots, a splash of balsamic, and cheeeeeeese for what is sure to be a new favorite.
Yields
4 Servings
Prep Time20 mins
Cook Time15 mins
Total Time35 mins
Ingredients
Crust
¾
cup
Warm water (110°F to 115°F)
1 ½
cups
AP flour (add up to 1/2 cup more if needed)
Additional olive oil for shaping the crust
Toppings
1
Shallot (thinly sliced)
2
cups
Mushrooms (sliced)
Procedure
1
In a large bowl, whisk together the yeast, brown sugar, water. olive oil, and powdered milk.
2
Add the flour, ½ cup at a time, mixing well after each addition. Once you have added enough flour to knead the dough (about 2 ½ cups), place the dough on a floured surface and continue to work in the remaining flour. Knead the dough for about 3-4 minutes.
3
Place the dough into a bowl coated with cooking spray and set aside in a warm place covered with a light towel. Let the dough rise until it has doubled in size, about 1 hour.
4
Preheat the oven to 425°F. If you are using a baking stone, prepare it by preheating it with the oven. If you are using a baking sheet, prepare it by spraying it with cooking spray.
5
After the dough has doubled in size, punch down the dough and set aside while you prepare the toppings.
6
While the dough rests, heat the olive oil in a large nonstick skillet over medium heat. When the olive oil is warm, add the shallots and mushrooms and sauté for 7 minutes, or until the shallots and onions have begun to soften. Add the herbs de provence and balsamic vinegar and cook for another 1-2 minutes.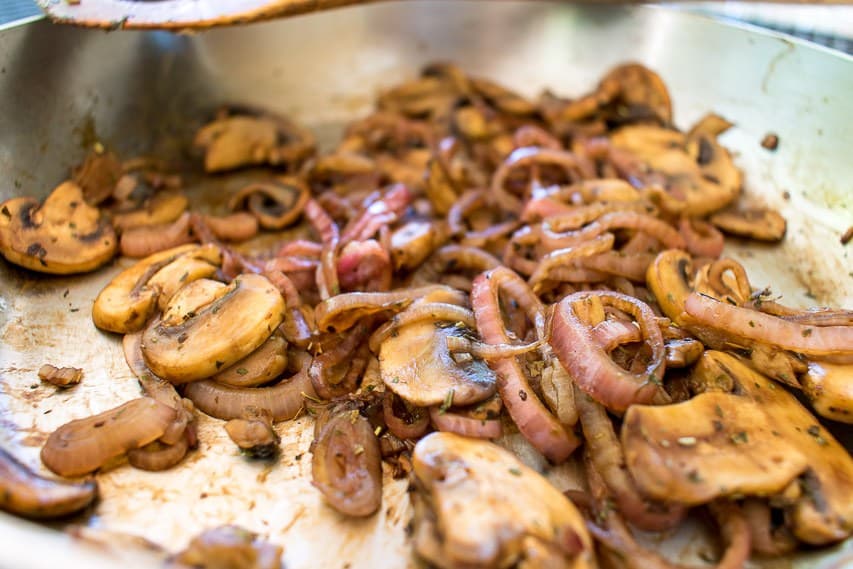 7
Coat the dough with a bit of olive oil and slowly stretch it to the desired size (mine is roughly 10″ x 14″). Place the stretched dough onto the baking stone (or sheet). It is easiest to stretch it on a sheet of parchment paper. You can move the entire sheet of parchment to the baking stone (or baking sheet).
8
Top the crust evenly with the shallot mixture and top that with cheese. Bake in the preheated oven for about 15 minutes or until the crust is golden and the cheese begins to brown. The shallot mixture will lightly cover the dough. It will not be a very dense covering.
9
* This makes enough for light coverage. The toppings will not be very dense. If you prefer more veggies, you may want to double the toppings.
** For nutritional information we used Kraft mozzarella, which has 150 mg sodium per ounce.
Nutrition Facts
Serving Size 2 Slices
Servings 4
---
Amount Per Serving

% Daily Value *

Total Fat 10.7g

17

%

Saturated Fat 4.2g

22

%

Cholesterol 5mg

2

%

Sodium 162.4mg

7

%

Potassium 275mg

8

%

Total Carbohydrate 54.2g

19

%

Dietary Fiber 3g

12

%

Sugars 1.9g

Protein 15.5g

31

%
---
Phosphorus

6.25

%
* Percent Daily Values are based on a 2,000 calorie diet. Your daily value may be higher or lower depending on your calorie needs.
Source:
Kathy - SodiumOptional