I don't recommend eating fried food too often but every once in a while it's a nice treat. I like to think that if I'm going to eat fried food, I would rather fry my own in nice clean oil. When at a restaurant you have no idea how gross their frying oil is, or what was fried in it before. Plus chefs are almost programmed to salt everything that comes out of a fryolator. I know this because I use to be a chef for many years before my kidney disease took its final toll on me. This low sodium chicken tender recipe involves deep frying, so make sure to have a plate with paper towels on it off to the side to drain the chicken once it comes out of the hot oil. Let me know what you think in the comments below.
Yields
6 Servings
Prep Time3 hrs
Cook Time5 mins
Total Time3 hrs 5 mins
Ingredients
Marinade
Breading
1 ½ cups all purpose flour
1 ½ tsp sodium-free baking powder
Cooking
3-4 cups vegetable or peanut oil
Procedure
Marinade
1
To make the marinade, mix the half and half, vinegar, cayenne, garlic powder, and smoked paprika. Set aside 3 tablespoons of the marinade and refrigerate. You will use this later for the breading.
2
Place the chicken tenders in a larger ziplock bag with the rest of the marinade. Seal the bag and refrigerate for overnight, or at least 2 hours.
Breading & Cooking
3
Heat the oil over medium high heat (about 350°F to 375°F).
4
Stir together the flour, pepper, garlic powder, smoked paprika, and baking powder. Using a fork, stir in the reserved 3 tablespoons of marinade until there are little clumps throughout the flour mixture.
5
Spread the flour mixture on a large plate. Working with one chicken tender at a time, remove the chicken from the marinade and coat with the flour mixture. Place the breaded tenders on a baking sheet. (Tip - you can cover the baking sheet in tin foil for easy cleanup.)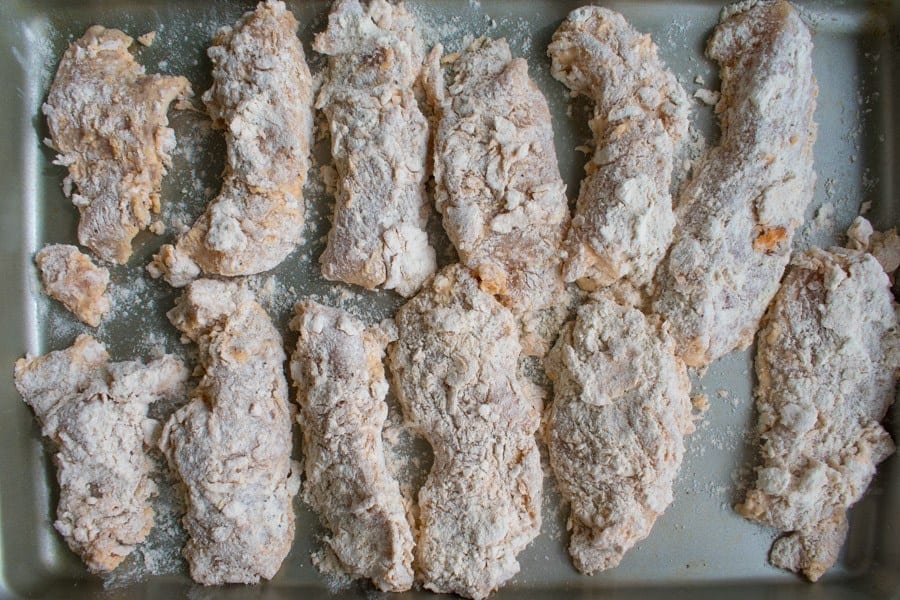 6
Place the breaded chicken tenders into the hot oil, being careful not to crown the pan. (I use a relatively small pan, so I can fry about 4 pieces at a time.) Cook the chicken tenders until they have browned nicely, about 4-6 minutes.
7
Remove the tenders from the oil and place on a paper towel-lined plate. Fry the remaining tenders in batches. Cool for a few minutes before serving.
Notes & Tips
Nutrition is calculated assuming that the chicken absorbs two ounces oil for the entire recipe, and that we use 3/4 of the marinade and 3/4 of the breading.
Nutrition Facts
Serving Size 1/6
Servings 6
---
Amount Per Serving

% Daily Value *

Total Fat 15g

24

%

Saturated Fat 7.4g

37

%

Cholesterol 98.9mg

33

%

Sodium 111.2mg

5

%

Total Carbohydrate 19.2g

7

%

Dietary Fiber .6g

3

%

Sugars .1g

Protein 38.2g

77

%
---
* Percent Daily Values are based on a 2,000 calorie diet. Your daily value may be higher or lower depending on your calorie needs.
Source:
Kathy - Sodium Optional