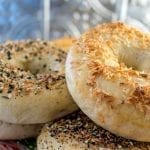 If you're like me and love bagels, then you also know that store bought bagels tend to be very high in sodium. But how in the heck do I make my own bagels?
With the same chewy texture as a store-bought bagels and the flexibility to choose your own toppings, this low sodium bagel recipe is bound to be a staple in your house, and impress your family and friends. I like making a bunch up front and freezing them for later use. When I run out of bagels and want more, I just pull them out of the freezer and I'm good to go.
You can change the size of the recipe by clicking on the "Servings" link under "Yield" below.
Yields
8 Servings
Prep Time20 mins
Cook Time1 hr
Total Time1 hr 20 mins
Ingredients
Bagel
1 ¼
cups
Warm water about 110°F to 115°F
Procedure
Mix the bagels
1
Dissolve the yeast and sugar in the warm water in a large bowl. Let rest for a few minutes until the yeast begins to foam.
3
Add the flour about ¾ cup at a time until the dough is firm enough to knead (roughly 2.5-3 cups). Once you can handle the dough, begin to knead it, adding the remaining flour as needed. Knead the dough for 5-8 minutes (you can use a large stand mixer with a dough hook for this). The dough should be smooth and elastic when you are finished.
4
Place the dough into a clean, oiled bowl. Put the bowl in a warm place and let rise until the dough has doubled in size (about 60-90 minutes).
5
Punch the dough down and let rest for 10 minutes.
Shape the bagels
6
Line a baking sheet with parchment paper or a silicone baking mat.
7
Divide the dough into eight chunks. Shape each chunk into a smooth ball by rolling the ball in a circular motion against your work surface (see photo in blog post).
8
Pick up a dough ball and press a hole into the center. Stretch the hole until it is roughly 2-3 times as large as you would like it to be when the bagel is cooked (see photo in blog post). Place the bagel on the prepared baking sheet and repeat with each piece of dough.
9
Once all the bagels are shaped, cover with a light towel and let rise for 10 minutes. While the bagels are rising, bring a large pot of water to a boil and preheat the oven to 425°F.
Cook the bagels
10
Begin by boiling the bagels. Boil as many at a time as you are comfortable with. Do not overcrowd the pan, as the bagels will rise a lot when they boil.
11
Place the bagels in the boiling water and boil for 1-2 minutes per side. The longer you boil, the more they will rise and the chewier they become. Remove the bagels from the water and place back on the prepared baking sheet while you boil the rest of the bagels.
12
To make the egg wash, whisk the egg and water together in a small bowl. If using, brush on bagels and add optional toppings.
13
Bake in the preheated oven for 20 minutes or until golden brown.
Notes & Tips
*You can use all purpose flour if that is what you have on hand. I also tested with a combination of all-purpose flour + 1/3 cup gluten, and that worked well too. I prefer using bread flour or the all-purpose flour + gluten because the bagels tend to be a bit chewier, but they were still delicious with all-purpose flour.
**Optional egg wash and toppings are not included in the nutritional information.
These bagels are best when eaten fresh, but they do hold up okay when frozen. The texture will change a bit if you freeze them, but it has worked okay for us.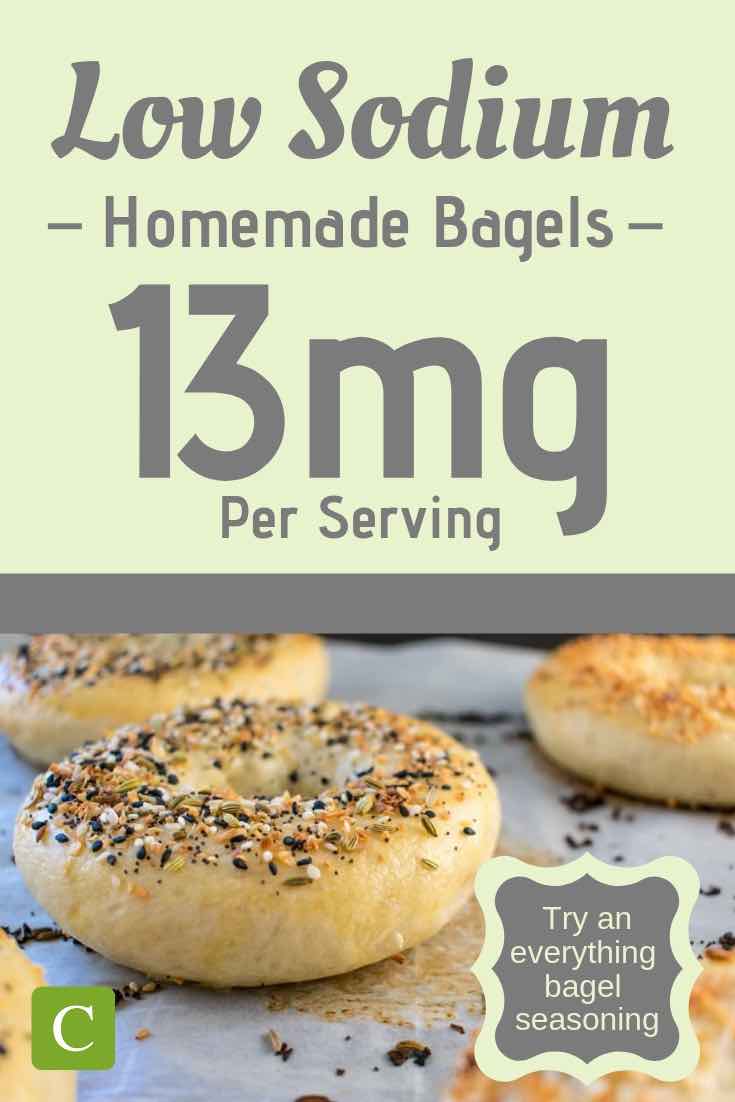 Nutrition Facts
Serving Size 1 Bagel
Servings 8
---
Amount Per Serving

% Daily Value *

Total Fat .6g

1

%

Saturated Fat .1g

1

%

Trans Fat .1g

Cholesterol 0mg

Sodium 13.3mg

1

%

Potassium 120mg

4

%

Total Carbohydrate 44.7g

15

%

Dietary Fiber 1.7g

7

%

Sugars 2.8g

Protein 6.8g

14

%
---
Phosphorus

1

%
* Percent Daily Values are based on a 2,000 calorie diet. Your daily value may be higher or lower depending on your calorie needs.
Source:
Kathy - SodiumOptional