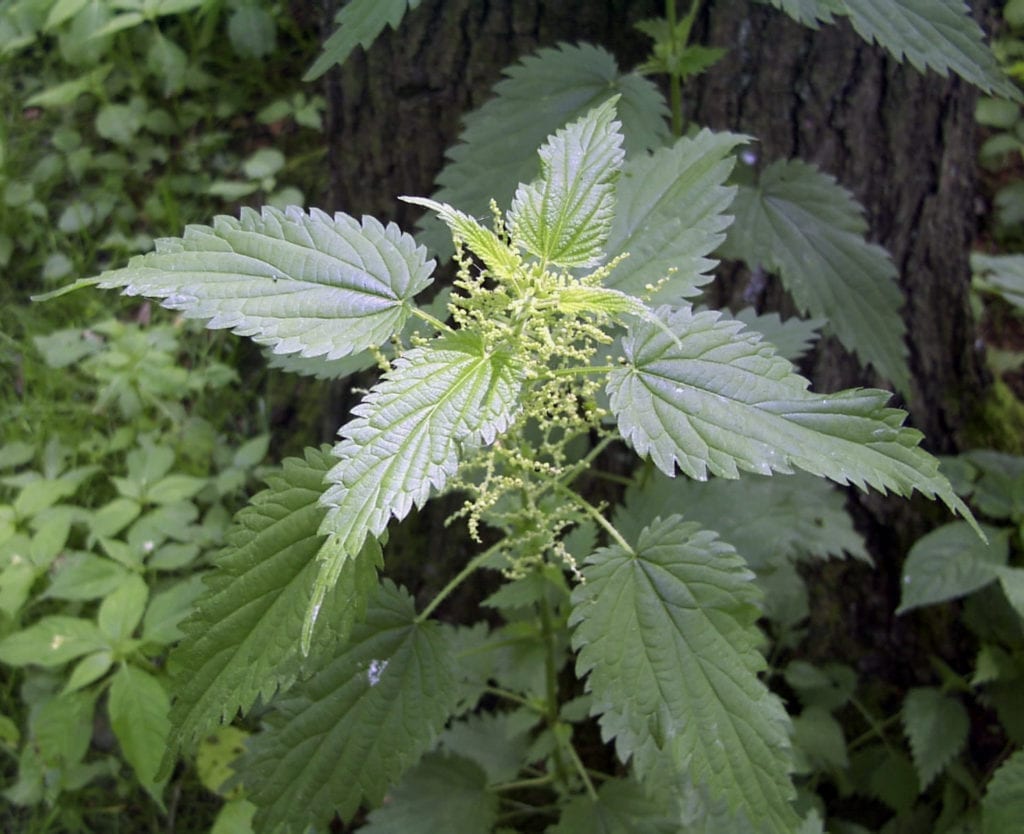 Using the Nettle plant as Food
Urtica dioica has a flavor similar to spinach mixed with cucumber when cooked and is rich in vitamins A and C, iron, potassium, manganese, and calcium. Young plants were harvested by Native Americans and used as a cooked plant in spring when other food plants were scarce. Soaking stinging nettles in water or cooking removes the stinging chemicals from the plant, which allows them to be handled and eaten without injury. After the stinging nettle enters its flowering and seed-setting stages, the leaves develop gritty particles called cystoliths, which can irritate the urinary tract. In its peak season, nettle contains up to 25% protein, dry weight, which is high for a leafy green vegetable. The leaves are also dried and may then be used to make a herbal tea, as can also be done with the nettle's flowers. [1]
Nettles can be used in a variety of recipes, such as polenta, pesto, and purée. Nettle soup is a common use of the plant, particularly in Northern and Eastern Europe. [1]
Nettles are sometimes used in cheesemaking, for example in the production of Cornish Yarg and as a flavoring in varieties of Gouda. [1]
Nettles are used in Albania as part of the dough filling for the börek. The top baby leaves are selected and simmered, then mixed with other ingredients such as herbs and rice, before being used as a filling between dough layers. Similarly, in Greece, the tender leaves are often used, after simmering, as a filling for hortopita, which is similar to spanakopita, but with wild greens rather than spinach for filling.[1]
Competitive Eating and the Common Nettle
In the UK, an annual World Nettle Eating Championship draws thousands of people to Dorset, where competitors attempt to eat as much of the raw plant as possible. Competitors are given 60 cm (24 in) stalks of the plant, from which they strip the leaves and eat them. Whoever strips and eats the most stinging nettle leaves in a fixed time is the winner. The competition dates back to 1986 when two neighboring farmers attempted to settle a dispute about which had the worst infestation of nettles. [1]
Growing and Gardening with Nettles
Nettles have a number of other uses in the vegetable garden, including the potential for encouraging beneficial insects. Since nettles prefer to grow in phosphorus-rich and nitrogen-rich soils that have recently been disturbed (and thus aerated), the growth of nettles is an indicator that an area has high fertility (especially phosphate and nitrate), and thus is an indicator to gardeners as to the quality of the soil. [1]
Nettles contain nitrogenous compounds, so are used as a compost activator or can be used to make a liquid fertilizer, which although low in phosphate, is useful in supplying magnesium, sulfur, and iron. They are also one of the few plants that can tolerate, and flourish in, soils rich in poultry droppings. [1]
The stinging nettle is the Red Admiral caterpillar's primary host plant and can attract migrating Red Admiral butterflies to a garden. U. dioica can be a troubling weed, and mowing can increase plant density. Regular and persistent tilling will greatly reduce its numbers, and the use of herbicides such as 2,4-D and glyphosate are effective to control measures. [1]
Sowing and planting
Three cultivation techniques can be used for the stinging nettle: 1) direct sowing, 2) growing seedlings in nurseries with subsequent transplantation, and 3) vegetative propagation via stolons or head cuttings. [1]
Direct sowing: The seedbed should have a loose and fine structure, but should be reconsolidated using a packer roller imminently prior to sowing. Sowing time can be either in autumn or in spring. Seed density should be 6 kg/ha with a row spacing of 30 centimeters (12 in) and 42–50 cm in autumn and spring, respectively. The disadvantage of direct sowing is that it usually leads to incomplete plant coverage. This drawback can be mitigated by covering the seedbed with a transparent perforated foil in order to improve seed germination. Further, weed control can be problematic as the stinging nettle has a slow seedling development time. [1]
Growing seedlings: For this technique, pre-germinated seeds are sown between mid-/end-February and beginning of April and grown in nurseries. Seedlings are grown in tuffs with 3-5 plants/tuff and a seed density of 1.2-1.6 kg / 1000 tuffs. A fastened germination is achieved by alternating high temperatures during daytime (30 °C for 8 h) and lower temperature during nighttime (20 °C for 16 h). Before transplanting, the seedlings should be fertilized and acclimated to cold temperatures. Transplantation should start around Mid-April with a row spacing of 42–50 centimeters (17–20 in) and plant spacing within rows of 25–30 cm. [1]
Vegetative propagation: Stolons (with several buds) of 10 cm should be planted from Mid-April in a depth of 5–7 centimeters (2.0–2.8 in). Head cuttings are grown in nurseries starting between mid-May and mid-June. Growing tips with two leaf-pairs are cut from the mother plant and treated with root-growth inducing hormones. Transplantation can be delayed in comparison to the growing seedling technique. [1]
Traditional medicine
Urtica dioica herb has been used in the traditional Austrian medicine internally (as tea or fresh leaves) to treat disorders of the kidneys and urinary tract, gastrointestinal tract, locomotor system, skin, cardiovascular system, hemorrhage, influenza, rheumatism, and gout. [1]
As Old English stiðe, nettle is one of the nine plants invoked in the pagan Anglo-Saxon Nine Herbs Charm, recorded in the 10th century. Nettle was believed to be a galactagogue, a substance that promotes lactation. [1]
Urtication, or flogging with nettles, is the process of deliberately applying stinging nettles to the skin in order to provoke inflammation. An agent thus used is known as a rubefacient (something that causes redness). This is done as a folk remedy for the treatment of rheumatism. In Ecuador, there are indigenous healers that use stinging nettles with the belief that they improve fatigue and circulation, by rubbing raw leaves or flogging the plant directly on the body. [1]
Sources